New Delhi | Jagran News Desk: In today's 'Breaking News, Latest Updates' blog, we at English Jagran will focus on the assembly elections in five states – Uttar Pradesh, Punjab, Uttarakhand, Goa and Manipur. In Uttar Pradesh, PM Modi will today lay the foundation stone of Ganga Expressway in Shahjahanpur. This will be the third event in less than a week in Uttar Pradesh that will be attended by PM Modi.
Meanwhile, in Punjab, Captain Amarinder Singh has announced an alliance with the BJP, expressing confidence that the bonhomie will 101 per cent win the elections. Captain Amarinder's decision to form an alliance is expected to have a significant impact on the Punjab polls and could pose a significant challenge for the Congress and the Aam Aadmi Party (AAP).
Here are the LIVE Updates from the day:
15:43 hours: BREAKING: 18 students of a school in Ghansoli, Navi Mumbai, have tested COVID-19 positive, out of more than 950 students who've been tested. The school will be shut for the next week; remaining students to be tested at their residences today, says NMMC Commissioner Abhijit Bangar.
15:11 hours: Also Read – Year-ender 2021: Top 3 scoops of the year that stunned everyone
15:00 hours: Middle-class people and the poor were badly affected by some of the decisions taken by the PM, which also resulted in large scale unemployment. Demonetization, wrongly implicated GST, no help during the Covid crisis are the major reasons for unemployment in India, says Congress' Rahul Gandhi.
14:50 hours: You are aware of the situation today. Unemployment and inflation are the biggest questions that neither the CM nor PM will answer. PM was taking a dip in Ganga a few days back but won't talk about unemployment. I'll tell you why the youth is deprived of employment, says Congress' Rahul Gandhi.
14:45 hours: I came into politics in 2004. Amethi was the city where I contested my first election. People of Amethi have taught me a lot about politics. You have shown me the way to politics and I want to thank each and everyone from Amethi, says Congress' Rahul Gandhi.
14:19 hours: That day is not far when UP will be identified as the most modern state with next-generation infrastructure. The network of expressways in UP, the new airports being built, new rail routes being laid down are bringing several blessings to people of UP simultaneously, says PM Modi.
14:15 hours: I congratulate everyone in Meerut, Hapur, Bulandshahr, Amroha, Sambhal, Badaun, Shahjahanpur, Hardoi, Unnao, Raebareli, Pratapgarh and Prayagraj. Over Rs 36,000 crore will be spent on this approx 600 km long expressway. Ganga Expressway will bring new industries in this region, says PM Modi.
14:10 hours: The Ganga Expressway will bring numerous jobs and several new opportunities for thousands of youth, says PM Modi.
13:54 hours: PM Modi lays the foundation stone of Ganga Expressway in Uttar Pradesh's Shahjahanpur.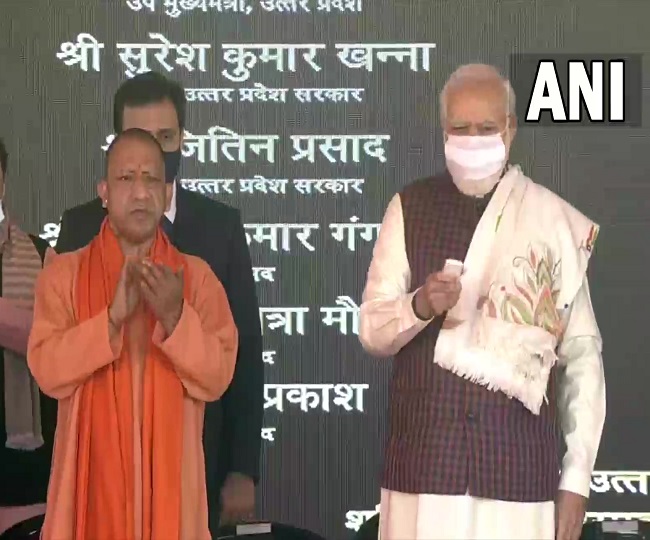 13:45 hours: Congress will form government in Punjab. Everybody has the right to speak in a democracy but you'll know what happens after results. Congress gave him everything, how can he join BJP? This is opportunism, says party leader KC Venugopal.
13:05 hours: The government focuses on private and public investments in the education and healthcare sectors to make India, the world's healthiest and most capable workforce. Our target is to build 1 medical college in each district and at least 1 AIIMS in each state, says Union Defence Minister Rajnath Singh.
12:50 hours: India is an emerging economy that has started moving towards growth. We have young trained scientific, technological and managerial talent. World's top most organizations have Indian CEOs, says Union Defence Minister Rajnath Singh.
11:45 hours: After Tamil Nadu chopper crash, the VVIP protocols to fly will be revised and reviewed. All these procedures will be reviewed based on the findings of the enquiry. We are continuously evaluating threats from Pakistan and China and are very well aware of it, says IAF Chief VR Chaudhari.
11:03 hours: Also Read – Jagran Explainer: How Ganga Expressway will be a game changer for eastern and western Uttar Pradesh
10:47 hours: Just In: IMD issues a yellow alert for cold waves for Uttarakhand from December 18 to 21.
10:13 hours: BREAKING: Four people, including an autorickshaw driver, died after a container vehicle overturned and fell on the auto near IGI stadium in Delhi earlier this morning. Driver of the container vehicle is absconding, reports ANI.
10:00 hours: Just In: India reports 7,145 new COVID-19 cases, 8,706 recoveries and 289 deaths in the last 24 hours, says Union Health Ministry.
Active cases: 84,565 (lowest in 569 days)
Total recoveries: 3,41,71,471
Death toll: 4,77,158
Total Vaccination: 1,36,66,05,173
9:32 hours: Rahul Gandhi will lead a 6 km long footmarch in Uttar Pradesh's Amethi today against rising inflation. Priyanka Gandhi Vadra will also be a part of it.
9:29 hours: Just In: Farmer leader Gurnam Singh Charuni to launch a new political party today in Chandigarh, reports ANI.
9:00 hours: New Okhla Industrial Development Authority (NOIDA), which was formed by the Uttar Pradesh government in 1976, has failed to achieve its main objective of industrialisation, claims CAG report.
Farmhouse schemes launched in Noida during 2008-11 lacked requisite Uttar Pradesh government approvals, and allotments under them were done in 'questionable' manner, causing loss of over Rs 2,833 crore to exchequer, it noted.
8:33 hours: Also Read – US returnee, who tested positive for Omicron in Mumbai, had taken 3 doses of Pfizer vaccine: BMC
8:01 hours: We can't discuss the constitutionality of any Act. But for these kinds (AFSPA) of Acts, the government has to review whether it should be applied and in which district, at what particular time, says NHRC chairperson Justice Arun Mishra.
There is no room for fake encounters in a civilised society. There is no room for instant justice in this country and law has to take its own course. A person who is guilty has to be tried in court and punished in accordance with law, he added.
7:49 hours: Today's conference in Mumbai reminds me of my time as state minister in 1995, when I rejected a tender by Reliance for the Mumbai-Pune express highway. Dhirubhai (Ambani) was there at that time, and he was very upset with me, says Union Minister Nitin Gadkari.
My chief minister was also upset and so was Balasaheb Thackeray. They asked me why did you do it? I said we will raise money from the public for that project and other projects like Bandra-Worli Sea link; everyone was laughing at me. We went to several investors for the project, and now investors are coming to us, he added.
7:40 hours: We are soon issuing an advisory on flex engines. In 2-3 years, our vehicles will get converted into EVs. Running cost of EVs will be similar to or less than petrol vehicles. Toyota, Suzuki and Hyundai assured that they would be scaling up flex-fuel engine manufacturing, says Union Minister Nitin Gadkari.
7:34 hours: We need to reduce the logistic cost and build multimodal infrastructure which will help manufacturing, spur economic growth and create employment, says Union Minister Nitin Gadkari.
7:30 hours: We're building 26 green express highways. And tunnels worth about 2 lakh crore. There is no short of money. We're sitting on gold mines… we've toll revenue and it is increasing. We've no problem, says Union Minister Nitin Gadkari.
7:19 hours: Delhi AQI is presently at 319 (overall) in the 'very poor' category, says SAFAR.
7:15 hours: PM Modi to lay the foundation stone of Ganga Expressway in Uttar Pradesh's Shahjahanpur at around 1 pm today.
Posted By: Aalok Sensharma
Total Vaccination:1,36,66,05,173
Active:84,565
Deaths:4,77,158
Australia beat New Zealand by 8 wickets